The Raleigh Hand to Shoulder Center now offers in-office ultrasound to aid in the treatment of various hand and arm conditions. This cutting-edge device has allowed us to deliver point of care diagnostic and therapeutic techniques that were previously not possible.
In-office ultrasound has benefits for both expediting care and lowering healthcare costs to the patient. In some instances, we are able to perform diagnostic evaluation of a joint or other body part without the need for an expensive MRI or other advanced imaging study. Likewise, in office ultrasound has been shown to be as effective as nerve conduction studies for the diagnosis of carpal tunnel syndrome.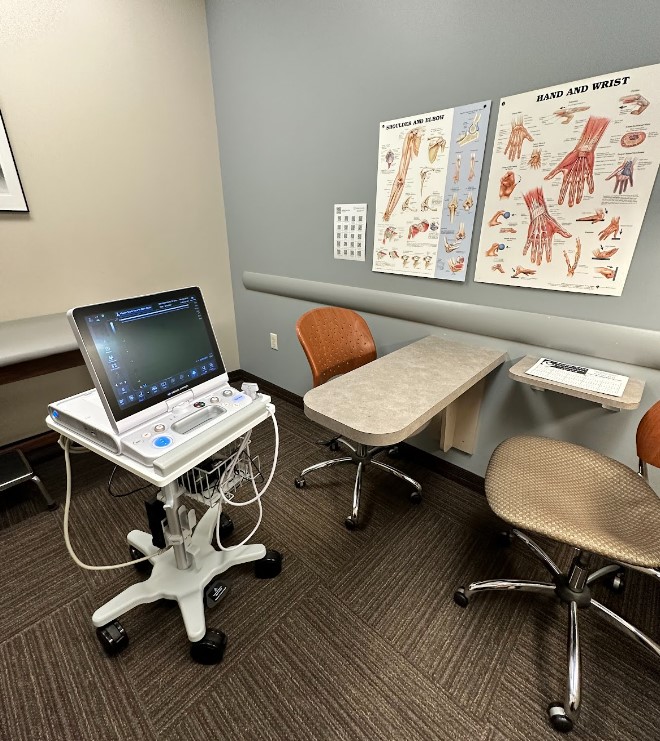 Some patients can not have MRI scans or CT scans performed due to previous implants in the body. The in office ultrasound machine allows us to provide diagnostic capabilities to those patients in a safe, timely, and cost-effective manner.
Some therapeutic steroid injections require advanced imaging to accurately place the needle. For instance, shoulder joint injections are sometimes performed with X-ray needle localization, which is typically done at a radiologist's office. In many cases, we can avoid this referral by providing the injection under ultrasound guidance on the day of the office visit.
The fees associated with ultrasound techniques performed in the office are significantly lower than other options. At the Raleigh Hand to Shoulder Center, we are proud to offer high quality, low cost care to our patients. The addition of in-office ultrasound allows us to further enhance our ability to achieve this goal.